Article originally appeared in The New York Times.
A growing number of high-end waterfront communities, particularly in Mexico and the Caribbean, are hiring biologists and other wildlife specialists.
Upscale waterfront residential developments tend to promote their beach clubs, multiple swimming pools, sleek eateries and other appealing amenities. More recently, several are also taking pride in how they protect the wildlife that lives on their properties and how they preserve their native environments too.
Michael Valdes, chief growth officer and president of the real estate firm eXp, said that a growing number of high-end waterfront communities, particularly in Mexico and the Caribbean, were hiring biologists and other wildlife specialists to keep track of the animals that inhabit their properties, and also to preserve their ecosystems. Many also lead wildlife viewing excursions for residents, he said. "It's a way that these luxury developments are moving to be more sustainable," Mr. Valdes said. "They want to respect the land around them and caring about the local wildlife is a big part of that."
One example is Mayakoba, a 620-acre waterfront community in Mexico's Riviera Maya with four hotels and more than 150 residences. Guests and homeowners have access to more than 25 restaurants, multiple beach clubs and four spas.
The latest amenity to join this list is the newly expanded sustainability team of 10 staff members, including five biologists, who work to monitor and protect the resort's beaches, jungles, lagoons and mangrove swamps. These settings are home to more than 330 species of wildlife including birds, raccoons, monkeys, deer, crocodiles, snakes and turtles.
Hugo Rivas, 52, is Mayakoba's head biologist and is in charge of wildlife management. Born and raised in Guadalajara, Mexico, he said that his favorite way to spend his weekends as a child was to visit the local zoo and observe the various animals. After working as a zookeeper for several zoos, he wanted to interact with animals in their natural environments, which eventually led to his current role. "I didn't want to see animals caged up anymore and was more interested in helping them thrive in the habitats where they're meant to live," Mr. Rivas said.
Can you describe a typical workday for you?
I spend most of my days canvassing the property on foot or on a boat through our canals to look for the animals. I keep a log of each one that I observe so that we have a count of how many we have and how that number changes every year.
If the numbers decline over the course of a few years, that's a red flag that they are not thriving. Fortunately, since Mayakoba opened in 2006, we've never seen that happen. In fact, we had 120 species then, and there are more than 330 now.
I also make sure that residents are following our animal preservation bylaws. With beachfront residences, for example, owners are required to use soft lighting for their outdoor spaces because marine turtles who come onshore to lay eggs can be jarred and scared away by bright lights.
What would you do if a certain population of animals was declining?
I would take steps to reverse course and start by surveying their environment. If they live in a mangrove, for instance, I would make sure that the native plants that they rely on for food are not dying. If they are, we would replant them. Other examples include preserving our lagoons and canals with natural algae and seagrass because fish and other animals use these for refuge and feeding. The main principle of these actions is to preserve the natural habitat to provide animals with the best homes to live in.
Do you tag any of the animals that you log?
Only crocodiles. I need to know where they live and where their nests are because they can be a danger to humans. This is especially the case if female crocodiles have eggs in their nests because they can be fiercely protective of their territory, and residents need to be warned about not invading their space.
How do you manage this potential danger and keep residents safe? And besides crocodiles, what other species are a possible threat?
I know where these dangers lie and designate these areas as off-limits. In reality, no animal is dangerous to humans when they're in their natural environment, but they can pose a danger when that setting is threatened, especially females who have babies. These animals include deer, raccoons and spider monkeys. People tend to think that animals such as snakes would be the most dangerous, but it's not true.
What kinds of animals can residents expect to see at Mayakoba on any given day and where?
From their patios, they will always see colorful birds such as hummingbirds, woodpeckers, and chachalacas. If they're playing golf, deer, bat and coatis, a raccoon-like animal, are a given. On the beach, it's common to see pelicans and tarpon and barracuda, even if you're standing on the shoreline, and at night, the beach could mean sea turtles.
Mayakoba has a nature trail, and walking on it is like taking a mini safari, especially if you go early in the morning. You can see deer, beautiful jaybirds, owls and woodpeckers. Sometimes, residents spot tree snakes, but they're harmless. Even just walking around the property, you can see and hear the animals. If you walk by a canal, you may see crocodiles, iguanas and turtles, for example.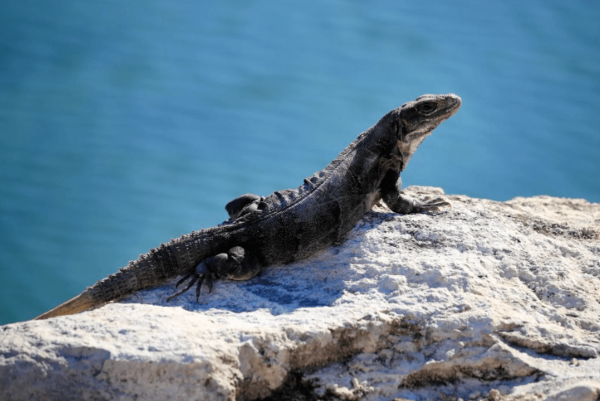 How do you communicate with residents when it comes to sharing any updates about the wildlife, and what kind of news do you share?
We rely on emails and pamphlets to inform residents. For example, when turtles lay their eggs on the beach from May to October between 9 p.m. and midnight, we encourage residents through these two ways to come and observe them but warn them to keep a safe distance. Otherwise, they might scare the turtles off — they'll retreat to the ocean and won't lay their eggs on the shore. They could potentially lay them in the sea instead, which means that the eggs wouldn't hatch.
In another example, we had a butterfly migration this June where thousands of butterflies arrived on the property and laid their eggs. There were thousands of caterpillars everywhere when those eggs hatched. I explained the situation to residents and told them not to fumigate around their homes if they spotted caterpillars because those were the butterflies.
In what ways do residents have the opportunity to learn about and interact with the wildlife?
We give weekly eco-tours for residents and hotel guests where we travel the canals by boat and observe the wildlife. We explain what each animal is called, what they eat and how they live. These tours last about an hour and are free. Residents are also encouraged to ask for walking and boating wildlife viewing tours at any time. Either I or someone on my team leads these. They're popular with families. Some even take them several times. Each excursion, especially in different seasons, leads to new wildlife discoveries.