Originally published by CNN.
I wanted to take my family on a relaxing vacation. Note that I didn't say an exciting vacation, or a mind-broadening one. I just wanted something easy.
We live in New Jersey, where it's been rainy and snowy and cold for about 37 years now, so somewhere warm, with sun, water and alcohol would be ideal.
I have some rules about relaxing vacation destinations. First off, I'm only taking one plane there — no connections. Second, I'm spending, max, four hours on that plane. Third, I'm not spanning a fistful of time zones to get where I'm going.
I want to go somewhere hot, particularly from October through April. Not warm, not balmy — H.O.T. I don't play golf, so a nice 70-degree day does nothing for me. It's gotta be at least 80 degrees, or I walk. I want it to be hot enough that jumping in a pool or ocean isn't even a discussion.
And I want my hotel to be no more than 45 minutes from the airport. I didn't fly for hours to then spend more hours in a backseat.
With all these factors in mind, Mexico becomes a leading candidate. And among the many places in Mexico you could choose, you can't really do much better than Mayakoba.
Resort heaven
Mayakoba is a 500+ acre development about 35 minutes south of Cancun in the city of Playa del Carmen. On one side of Mayakoba is the Caribbean Sea, on the other, a series of lagoons and canals wend their way through mangrove forests.
Mayakoba got its start about 20 years ago, when a Spanish construction firm purchased the undeveloped land. In the intervening years, an ambitious program of terraforming has taken place.
With careful attention paid to the existing plant and animal life, underground rivers were opened up, creating a system of canals; trees and plants were removed, roots and all, and replanted in new locations; wildlife was reintroduced to the area and thousands of feet of beach was reclaimed.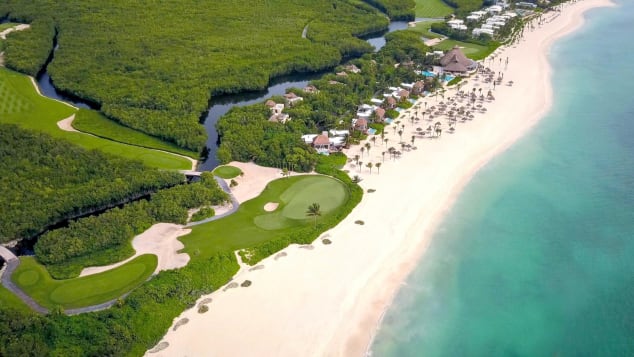 And the firm built four hotels there: The Andaz, Banyan Tree, Fairmont and Rosewood resorts. Each has its own property and style, but there is an underlying connectedness to them.
They all have neighboring beaches; transportation between the hotels is easy and frequent; and guests can charge any hotel's restaurant back to their room, regardless of where they're staying.
Mayakoba also has an 18-hole, Greg Norman-designed golf course, a special-events venue for weddings and such and an EPCOT-style traditional Mexican town square with additional shops and restaurants.
All four hotels share a similar layout. Due to protected mangrove forests just inland from the beach, each hotel is split between two areas: beachfront and lagoon.
All the resorts have at least one restaurant and swimming pool by the beach, along with rooms and suites. Over on the lagoon side is each hotel's entrance, more restaurants, a pool and additional guest rooms.
Getting from the lagoon to the beach (and vice versa) can be accomplished in three ways: on foot; using one of the many bikes available at each resort (at some of the hotels, bikes are assigned to your room; at others, there's a hotel-wide bikeshare program); or by a five-minute golf-cart ride.
To get between resorts, you can grab a ride from a hotel lobby or ride boats that regularly float through the canal system that links the properties.
You can also take an eco-tour on the canal boats, where you can see iguanas, crocodiles and birds that inhabit Mayakoba. (A note about the crocs: once they get about two feet long, they are removed from the property and taken to a nice farm, where they have lots of room to run around with other crocodiles — or something like that).
Another animal thing to mention is the regular presence of falcons.
They are almost always attached to the arm of one of the many staff falconers at Mayakoba and are only deployed to scare away other birds, should the property's winged friends get too nosy around the many outdoor eating areas. The birds seem to have gotten wise, as we never saw them get too close to anyone.

Fairmont Mayakoba is AAA Five Diamond property. It offers 401 guest rooms (including 34 suites). Courtesy Fairmont Mayakoba
Tailored properties
The four resorts share some basic architectural principles — a collection of low-slung buildings that extend from each hotel's lobby building — but the vibes are noticeably different.
The Andaz, which just opened a year ago, is clearly the younger, hipper sibling of the Mayakoba family. Its modern buildings are painted in shades of white and gray, occasionally punctuated by brightly-painted murals of indigenous birds.
The first North American outpost of the Asian chain, The Banyan Tree is striking and transportive — a dramatic collection of buildings that equally make you think of Southeast Asia and one of the kingdoms of Game of Thrones (Dorn, perhaps).
The Fairmont, with its palapa-roofed beach tents and large beachside restaurant, is the more conventional hotel in the area, and feels more like what you'd imagine a Mexican resort to be.
The Rosewood feels almost Californian — its lush gardens and beachside restaurant feel as much like Beverly Hills and Santa Monica as the Yucatan.
Each of these hotels has at least three restaurants. Since you're in Mexico, you can rest easy that the food will be good (because tacos are the world's perfect food). But the cuisines stretch far beyond the peninsula.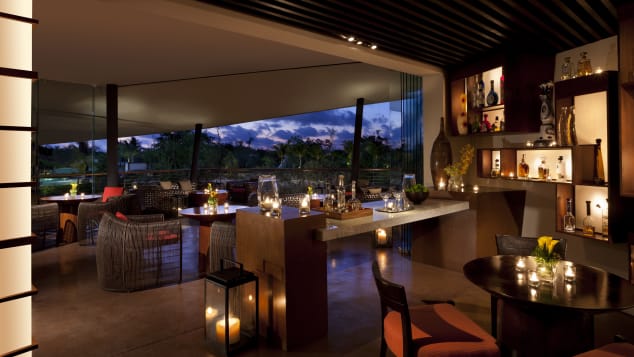 The Banyan Tree's glorious breakfast buffet at Oriente reminded me of those globetrotting buffets you see in Asia. You can (and really should) have sushi, prosciutto, pancakes, chilaquiles and croissants all in one sitting.
The Banyan's Thai restaurant was spectacular, both in food (get the crispy fish) and location, as we sat on a dock over the mangrove lagoon while listening to the calls of hooded orioles and green herons.
In the 19th century, Mexico saw an influx of Italian immigrants, who blended their ancestral cuisine with the ingredients available to them in their new home.
That Italo-Mexican tradition is available at the Rosewood's Casa del Lago, which is next to Agave Azul, a sushi bar with a formidable list of tequilas and mezcals. Beachside is more traditional Mexican fare at La Punta Bonita, which also has an extensive Mexican wine list.
The restaurants at the Fairmont are under the direction of one of Mexico's most famous chefs, Richard Sandoval. They range from the Latin-Caribbean-themed Brisas by the beach — which has some addictive grilled oysters in Tabasco sauce — to the Latin-Asian fusion El Puerco, overlooking the main lagoon.
Andaz's restaurants are more Mexican focused. Beachside are Olla Taco and Olla Ceviche, which also serve as the bar areas for the beachside pool.
A larger selection of Mexican dishes can be had inland at Cocina Milagro, while Casa Amate is a great option for a broader Latin American menu, served in a building meant to resemble the home of a globe-trotting Mexican family.
By the water
Mayakoba resorts center around the beach and the lagoons. Courtesy Fairmont Mayakoba
When you're not eating, you're likely sitting next to a body of water. All the hotels in Mayakoba have multiple pools, some with swim-up bars. The beach is also fully staffed, with umbrellas, chaises and waiter service.
In a nice nod to modernity, servers will place a small, wireless button (think of the ones Amazon gives you to reorder Tide) that connects to your server's watch. When it's time for another margarita, just press and someone from the staff will magically appear.
All beaches have kayaks and pedal boats you can borrow. For an additional fee, you can rent catamarans (which come with a captain if you're more of a landlubber), Jet Skis, kitesurfing equipment and instruction and parasailing rides from a boat anchored a few hundred feet offshore.
And when you're not taking advantage of those activities, the accommodations at Mayakoba's resorts range from standard rooms to multi-room villas. All of them are arranged in small clusters — there are no massive hotel buildings like you see in Cancun or Cozumél.
Beachside rooms are more expensive, but the lagoon rooms do have their own charms, as many are perched over the water with outside spaces that float on the lagoon.
No matter where you are, you can be assured of excellent service at any of the Mayakoba properties. We were warmly welcomed at each hotel, from staff in the lobbies to servers at the restaurants.
Twice-daily housekeeping kept our room immaculate. The networking of the staff to one another with Secret-Service style earpieces is a nice touch.
Whoever you were talking to could relay info to whomever could be helpful. Take a golf cart to your hotel's lobby, and the driver would radio ahead to make sure a car was waiting for you to take you to one of the other resorts, for example.
Within a day or two at Mayakoba, my family had all settled into a delightfully mellow groove. The weather back in Jersey was reassuringly terrible, only driving home the point that whatever we were doing in Mexico was far better than what we could be doing back at home.
Days consisted primarily of breakfast, swimming, talking about where we should go for lunch, lunch, lying around, talking about where we should go for dinner, drinks and dinner. I sought an easy, relaxing family vacation. At Mayakoba, I found it.